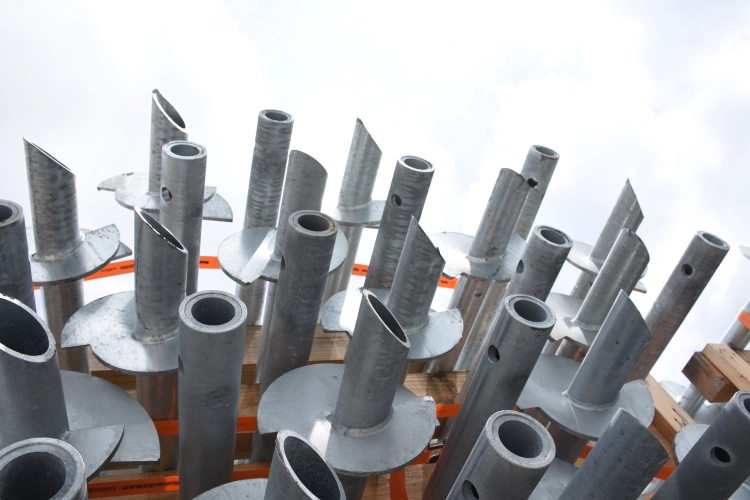 One of the most important structural elements of a home is the foundation, so when you're noticing issues that suggest your foundation isn't performing at its peak, it's a concern. Homeowners in Oklahoma know this issue all too well, because our clay soil, hot and dry spells, and unpredictable rain patterns can really take a toll on a house's foundation. Sometimes, piers are needed to add new strength and durability for a long-lasting home structure you can be confident in.
So, how do you know if piers are what you need—and if so, which ones are right for you? Let's take a closer look at what you need to know.
What Is a Pier Foundation?
To get a sense of what a pier foundation is, imagine the structure of a backyard deck that is built above the ground. What holds it up safely are a series of vertical posts underneath that take the weight of the deck and transfer it to the soil. The same approach can help hold up an entire home if installed properly for your foundation's needs.
Reasons You Might Need Foundation Piers for Your Home Exterior
Location — Exterior foundation piers are especially useful in areas where it's hard to install a full-slab foundation, such as spaces with shifting soil, large tree roots, water or steep sloping
Crawl Space — Allows for a crawl space to be a part of the home, which is common in Oklahoma where the clay soil makes basements impractical
Air Circulation — More air moving around underneath a home means less opportunity for mold and mildew to grow
Water-Friendly — Handy in areas where keeping water from touching the foundation is a good idea, such as by a lake or in wetlands
Repairs — For foundations that are sagging or weakened, exterior piers can help stabilize the structure and protect your home
Pre-Construction Piers vs. Post-Construction Piers
There are two times it can be advantageous to install foundation piers—during the home build process, or after the house is already built.
Pre-construction piers are driven deep into the soil until they reach stable areas; then the home foundation is constructed atop them, adding great stability to the whole building. These piers are now recommended during new home builds, but older homes are unlikely to have them.
Post-construction piers are installed on an existing home when the foundation is weakened somehow and in need of repair. In addition to obvious safety concerns, a home's foundation can strongly affect its value too, so if you need foundation repair, don't wait. Call on a foundation specialist quickly to protect your investment.
3 Types of Exterior Foundation Piers
1. Hydraulic Driven Steel Piers
Used frequently for repairing home foundations, driven piers are connected to the bottom of your slab's footing with brackets. To install these, our team excavates the ground, smooths out and repairs footing irregularities, inserts the brackets, hydraulically inserts the steel piers, and restores the excavated soil back into place.
2. Helical Type Piers
A good option to shore up lighter structures, helical piers are installed by driving a helix tool into the ground. Essentially, these piers can be thought of as giant screws that are driven into the ground until the appropriate torque is reached (that is, when they are "tightly in place," so to speak).
3. Drill and Drop Pipe Piers
This style of exterior foundation pier is used when the home is partially built over rocky soil that is hard to penetrate by the helix or push pipe tools used to install helical and driven piers. In this case, a drill is used to drive through the rock until a good, stable depth is reached. Then the pier is inserted in the drill hole.
Making the Right Choice for Your Foundation Piers
Does your entire house require foundation repair? Hydraulic driven steel piers are ideal for strengthening slabs in Oklahoma homes.
Is the area that is sagging small and relatively light in weight? Helical piers are an appropriate choice to build up sagging porch columns.
Is your land rocky and hard to penetrate? Using the drill and drop pier method is a smart choice.
Are you constructing a new home or adding on rooms to your home? Installing pre-construction piers now, during the building process, is a smart way to modernize your structure, boost its value, and create lasting durability.
Get Exterior Foundation Piers that Give You Peace of Mind
Oklahoma homes are subject to frequently shifting soil, so they benefit greatly from the addition of exterior foundation piers as a long-lasting solution. If you've noticed signs of foundational damage — cracks in walls and ceilings, sagged or sloping floors, doors and windows that don't close properly, etc. — it's wise to get your home inspected.
Our foundation pros at Edens Structural will provide a thorough check of your home, give you an honest and detailed explanation of what's going wrong, and point you in the right direction for repairs that give you peace of mind. Contact us with any questions, or to schedule a free consultation.