Call Okie – Utility Location Services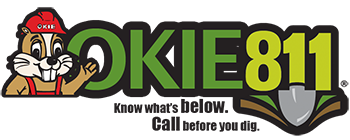 As in any construction or building repair project, safety is very important. This is why the state of Oklahoma requires that all excavators (including foundation repair contractors) notify the utility companies of an excavation at least 48 hours ahead of time.
Call Okie was established to provide a central point of contact to notify utility companies who may have underground lines in your area. This includes telephone, cable, natural gas, electric, etc. utilities.  Edens Structural Solutions will notify Call Okie before your scheduled service for you. Uniformed workers from the various utility companies in the area will come to your property and mark all applicable utility lines. There is no charge for this service.
You are still responsible for marking all sprinkler, sewer, and other private underground lines.  If a private line is not marked and is damaged during pier installation, the property owner will be responsible for the repairs. Customer should note that water lines are considered to be private lines.
For more information, you can visit the Call Okie website at CallOkie.org