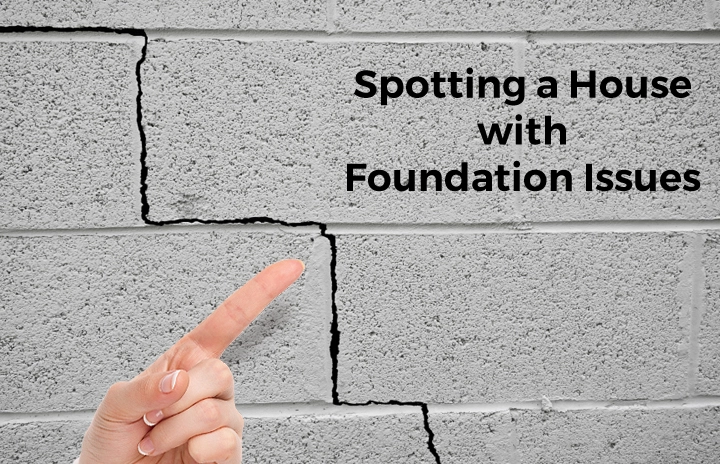 When searching for a new home, you have to be careful not to let emotions take center stage. It's easy to fall in love with a property after seeing a great backyard or a fully updated kitchen, but you must be willing to analyze the whole property and think about issues that could be lurking beneath the surface – such as foundation problems.
Signs That a House Has Foundation Problems
While foundation problems can fester for years before physical symptoms are exhibited, you can usually spot issues if you know what you're looking for. It doesn't matter if a home was built last year or last century, you should always keep your eyes peeled for the following signs of a foundation problem.
1. Cracks in Walls and Ceiling
One potential sign of a structural problem are cracks in the walls and ceiling. The key word to focus on here is potential. Most small cracks in drywall aren't serious and are merely caused by seasonal expansion and contraction of a home's wood framing. They usually appear around the corners of windows and door frames.
"But the type of crack you really need to be concerned with are those that are little wider than that, maybe three-sixteenth of an inch or more, and where one side of the crack is not level with the other side of the crack," home repair expert Danny Lipford says. "That can indicate some active structural movement."
Definitely, study wall and ceiling cracks in great detail to determine whether or not you're dealing with normal drywall cracks or a potentially serious problem. If you're unsure how to tell the difference, call out a home inspector or foundation repair expert.
 2. Sloped Floors
You'll also want to keep an eye out for sloped floors. Sometimes sloped floors are obvious, but more often than not, the slope is subtle. Be cognizant of these issues and look at the floor in more detail if there's considerable sloping or buckling of floorboards.
"Many older homes have problems with sloping and sagging floors," HomeAdvisor explains. "In a lot of cases, the owners of these homes simply ignore the problem or pass it off as a normal part of having a classic house. Though a sloped floor might indeed bring some character to a house, some of the issues that can cause them can lead to other problems down the road."
While it's entirely possible that a sloped floor is the byproduct of shoddy craftsmanship on the floor itself, this isn't a chance you want to take. Have an expert take a look.
 3. Misaligned Doors and Windows
Do you notice misaligned doors, stuck windows, or other similar problems? While this may simply be a result of tight hinges or improperly cut openings, it's also possible that these issues are byproducts of a foundation issue.
Windows and doors should be able to open and close freely without getting stuck or jammed. You also shouldn't have to lift up on a door to open or close it. While a homeowner may tell you that the window/door just needs to be replaced, take that advice with a grain of salt and call a foundation repair expert to take a look.
How to Spot a Seller Who is Hiding Something
In a perfect world, buyers and sellers collaborate together to make the purchase process as easy and straightforward as possible. However, we live in a world that's far from perfect. Sellers always have their own best interests in mind and all it takes is a little greed or dishonesty for someone to attempt to cover up an issue.
In most cases, sellers hide small issues – such as a tiny hole in a wall or small stain on the edge of the carpet – but dishonest decisions can have major ramifications when it comes to something as serious as a foundation problem. With that being said, here are three ways you can spot a seller who's potentially hiding symptoms of a foundation problem.
 1. Fresh Wallpaper
People often do renovations and repairs before putting a house on the market in an effort to increase the sale price. But if you walk into a home and notice that most of the house is dated while random parts seem to have been updated within the last couple weeks, the sleuth inside of you should perk up. Specifically, you should be wary of fresh wallpaper.
Unlike paint, wallpaper can hide cracks. Thus, a deceptive seller may try to hide large cracks with fresh wallpaper in order to keep potential buyers from noticing them. This is just something to think about during the home inspection process.
 2. Oddly Placed Furniture and Rugs
Remember that warped and sloping floors are telltale signs of foundation problems. A homeowner may try to cover up certain spots with rugs or furniture to prevent you from noticing. If you see oddly placed furniture that doesn't look like it belongs, make a mental note and take a look when the time is right.
3. Dampness in the Basement
Basements are notorious for having high levels of humidity, but you shouldn't ever accept dampness as normal. Water in the basement is never a good thing and could indicate a serious foundation problem that's actively damaging the home from the inside out.
Give Edens Structural Solutions a Call
Foundation problems aren't something you want to mess with – and they certainly aren't something you want to unknowingly acquire when you purchase a house.
At Edens Structural Solutions, we're proud to be the premier foundation repair company in all of Northeast Oklahoma. We have a reputation for being the most reliable and thorough foundation repair company in the industry and would be glad to speak with you in more detail regarding some of the signs of foundation problems and what can be done to remediate the root causes. For more information, please don't hesitate to contact us. We'd be happy to provide you with a free consultation!