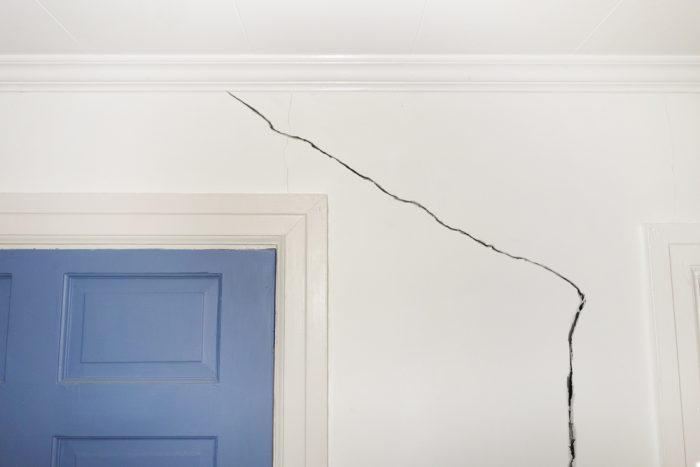 There are many different kinds of soil and we, as humans, build homes on almost every single one of them. While the techniques for home building don't change much, the behavior of the soil does. Expansive soil, often rich in clay, swells up when it's damp and retracts during droughts, but it doesn't all expand and retract in the same direction. Therefore houses on expansive soil are at risk of being lifted or settling in an uneven fashion which can damage and even crack your foundation. And as most people are already aware, foundation issues can either be repaired early or can become the end of an otherwise wonderful home. Unfortunately, your foundation is also incredibly difficult to keep an eye on, what with it being under your house, so the best way to catch a foundation crack early is to watch for a few common signs of this sort of trouble.
1) Strange Smells
While your first thought probably won't be about your foundation, an unusual or musty smell wafting through the house can be the result of an unsettled foundation. When the house is no longer flat or possibly even slowly pulling apart, this creates gaps in the structure that didn't exist before and can allow air seep through either from below the house or from the space between the walls into the living areas. If you smell something strange, consider the possibility of a foundation issue.
2) Unusual Humidity
Modern homes are sealed with drywall and paint to keep damp outside air out of the house. However, if the structure of your home is no longer aligned, then outdoor or underground humidity can get into your living areas. If you can't seem to clear a room of unusual mugginess, this may be because humidity is seeping in behind or through separating walls.
3) Cracked or Bowing Walls
When a foundation settles badly, it moves even though the house was not built to move. Walls can crack from turning, pressing, or stretching depending on how the foundation has settled. If the home has started leaning inward, some walls may bow (bend) or even turn at an unusual angle. When your walls start misbehaving, something serious has gone wrong and it's time to get your foundation repaired.
4) Separating Molding and Baseboards
Just as walls can shift out of place or begin to crack, a moving home can also start to separate long stiff pieces like molding and baseboards from the shifting walls and floor. If your baseboards start to peel away from the corners, this is an undeniable sign that your foundation is not in a good place.
5) Uneven Floors
There can be a number of causes for uneven floors including inexpert installation but if a marble can't set on your floor without rolling, there is definitely a problem. If it's not the result of curling floorboards and if the floor was flat to start with, an uneven floor is one of the most direct results of a cracking foundation.
6) Crooked Doorways
Finally, many aspects of your home are built on the theory that right angles can be counted on. However, as your floor tilts and your walls shift because of a foundation crack, doorways become parallelograms instead of rectangles and the rectangular doors stop fitting into them as well. Having door problems is the most recognizable sign of foundation problems and an indication that you should call professional help immediately.
Does your home show any of the signs of a cracking foundation? If your foundation is cracked, getting it fixed as early as possible is the best way to avoid even more extensive damage and return your home to its proper shape. In most cases, doorways, walls, and floors will return to normal once the foundation is repaired. For more helpful information about foundation cracks and repairs, contact us today!