It's very common to have cracks and settling in concrete slabs, driveways and basement floors in Tulsa area homes. Edens Structural Solutions is your custom foundation repair and concrete crack repair solution expert. We can fix most of these problems without having to pour a new concrete slab or driveway with our concrete foam lifting process.
Cost-Effective Concrete Slab Leveling with Expanding Foam
High Density (HD) Polyurethane Foam Concrete Lifting can usually be completed in one day and is a fraction of the cost of having a new concrete slab poured. Once repaired, concrete driveways can be driven almost immediately. After the slab has been carefully inspected, small holes are drilled at strategic locations. While carefully monitoring the movement of the slab, the polyurethane foam is pumped into the holes and spreads under the slab to fill any voids and begin to raise the slab back into place.
Each hole is filled and sealed and with that, your driveway, basement floor or even concrete sidewalk is lifted back into place and good as new.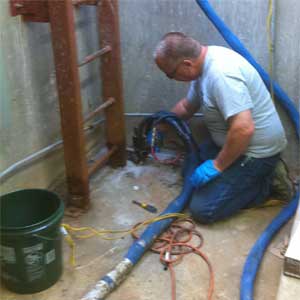 Why Polyurethane Lifting Foam Is the Best Option for Concrete Slab Repairs
There are special characteristics that need to be considered in what foam to use for lifting and leveling concrete.
The Foam Reaction Time
Foam that reacts slowly is great for filling voids, but not for raising concrete. If material reacts to slowly, it can travel under and beyond the slab you are trying to lift and then expand. In this scenario, you will have created a bridge of foam, lifting multiple slabs. Once this occurs, the only way to regain control over the slab is to cut through the layer of foam and attempt another lift again. Edens concrete lifting foam reacts at just the right rate to safely level your home's slab.
The Foam Adhesion
Concrete raising foam needs to lift concrete, but should not adhere to it. If raising a slab of concrete along foundation, foam can adhere to the foundation and lock the slab into place. For this reason, it is essential to have foam that will set-up with a tough exterior skin like the solution offered by Edens. The skin will eliminate adhesion to an adjacent concrete foundation or other slabs. 
The Foam Pliability
Concrete lifters and levelers know that you raise a slab of concrete one side at a time. They also know that when you raise one side you may lower another side. This typically works to your advantage. The ability to rock back on foam that has already been installed is important. This is impossible if the concrete lifting foam is too rigid too soon. Proper foams, like the Edens formula, will remain pliable for enough of a window that you can continue to work with it as you raise and level the slab. Good concrete raising foam should set up in 15 seconds and stay pliable for 15 minutes.
Experienced Tulsa Polyurethane Concrete Lifting Foam Experts
Since 1983, the Edens mission has been to give Oklahoma customers the best in foundation repair services and solutions. Being locally owned and operated right here in Tulsa, we understand our reputation matters and work to serve our customers with Integrity and Intelligence everyday.
We perform FREE on-site estimates for every job and have developed our Solid Ground Rebate Program that will pay up to $300 towards a third party engineer's report. We take these extra steps to ensure the solutions we recommend are the right solutions for our customers. Contact us today to schedule your FREE on-site estimate.
What Makes Us Different?
With over 37 years of experience, you can feel at ease that your job will be done right!

We have a 20-year warranty that is totally transferable no matter who lives in the house. Other companies will tell you that they have a "lifetime warranty," but then they won't answer the phone when you call.

No subcontractors! Our foundation repairs are ONLY done by our highly trained team.