Edens High Density (HD) Polyurethane Lifting Foam could be the ideal solution for slab repairs or concrete repairs if you have noticed sunken areas or cracks in your floors, sidewalks, porches or driveways.
Effective
Edens HD Polyurethane Lifting Foam gently lifts your slab or damaged concrete, in an effort to restore the stability and structural integrity of the affected area. It is also one of our preferred solutions for waterproofing basements and/ or other areas that are susceptible to water damage.
Efficient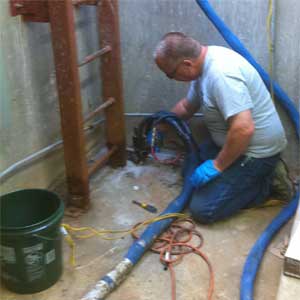 Edens HD Polyurethane Lifting Foam is an efficient, cost-effective way to elevate your slab with minimal disturbance to your home or your schedule. The foam is applied through small, 5/8 inch holes in your slab that are often made without the hassle of tearing up carpet or moving heavy furniture. The entire process is usually completed within 1 business day and the results are immediate.
Experienced
Since 1983, the Edens mission has been to give Oklahoma customers the best in foundation repair services and solutions. Being locally owned and operated right here in Tulsa, we understand our reputation matters and work to serve our customers with Integrity and Intelligence everyday.
We perform FREE on-site estimates for every job and have developed our Solid Ground Rebate Program that will pay up to $300 towards a third party engineer's report. We take these extra steps to ensure the solutions we recommend are the right solutions for our customers. Contact us today to schedule your FREE on-site estimate.
What Makes Us Different?
With over 37 years of experience, you can feel at ease that your job will be done right!

We have a 20-year warranty that is totally transferable no matter who lives in the house. Other companies will tell you that they have a "lifetime warranty," but then they won't answer the phone when you call.

No subcontractors! Our foundation repairs are ONLY done by our highly trained team.