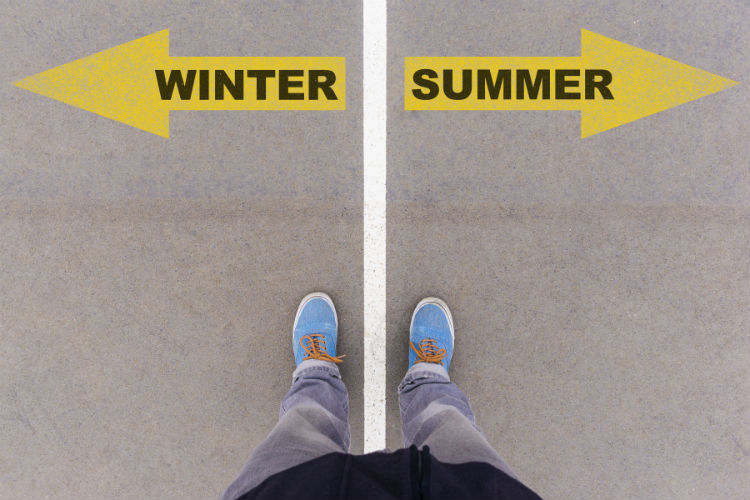 We're all aware of what the change in seasons means for us: switching our wardrobes to weather-appropriate clothing and planning fun seasonal activities during the weekends and vacations.
However, we don't always consider all of the ramifications that changing seasons have on our homes. We turn up or down the heat, adopt a different yard-maintenance routine–moving from mowing grass and watering plants to raking leaves and then shoveling snow, but we don't tend to think about how the structure of our home is affected by the seasonal changes, specifically, its foundation.
Weather and the Soil
The foundation of your home is underground, built in porous soil. Different types of soils expand and contract at different rates when water is in them. In the summer, dry weather can cause soil to shrink. In the winter, when the water in soil freezes, it expands, causing the soil to expand, too: Snow melts and saturates the soil and freezes overnight.
The soil closest to your house will freeze on top first. The longer the cold sticks around, the more it permeates the soil, which will begin to freeze at deeper depths. When the ground freezes below layers that are already frozen, the expanding water pushes up; this is "frost heave." You've probably seen that in your driveways and on patios and sidewalks, which begin to crack or settle due to the cycle of up-and-down movement.
The cycle of shrinking and expanding soil can damage foundations, too. Soil does not always get pushed upward. If it is confined, it can expand to the sides, which will eventually cause foundation damage.
Concrete Contracts
Concrete also will contract and expand with changing temperatures, leading to cracks, which then grow over time. This past winter, the concrete in your foundation contracted with the colder temperatures. When the warmer weather arrived this spring and summer, the concrete expanded, and, as colder temperatures arrive again, the concrete will shrink. You may have new cracks in your foundation, and existing cracks may have grown.
Hot temperatures also mean that any water that is in your foundation may have evaporated during the summer, causing cracks and possibly the weakening of the foundation. When the soil around the foundation dries out, the foundation may settle which can cause—you guessed it—more cracks, and may also make the foundation sit unevenly.
When it rains, water will flow into your basement or under your home via these cracks, weakening the foundation, and causing potential flooding and other damage. If the soil becomes saturated, that will also cause it to shift and settle, another cause of uneven foundations.
French Drains Deter Leakage
While all of this might sound overwhelming, one potential solution is to install French drains in your home. A French drain is a sloped trench filled with a pipe and gravel that diverts water away from the foundation by giving it an easier path downhill. As water flows into the trench, it enters the perforated pipe at the bottom and flows a safe distance from your home.
If you often get water in your basement, a French drain will be useful. If you have a soggy yard or a driveway that gets washed out during a storm, you should also consider installing French drains.
You should routinely inspect your foundation for damage so that you can repair any damage you find before it worsens.
Look for:
– A roof that appears to be sagging
– Any door or window that seems tight or is hard to open or close
– Cracks in walls, ceilings, or stairways, especially those on the second floor
– Gaps or cracks in your basement floor, interior basement walls, or foundation
– Large cracks in the soil around the exterior of your home
– Gaps around exterior doors and windows
Have you noticed any of these issues? Do you want an expert eye to do an inspection? Please contact Edens Structural Solutions for a free consultation via phone (918-366-3001; toll-free 855-574-0226) or use the contact form on our website. We serve Oklahoma, Texas, Arkansas, Missouri, and Kansas, and look forward to assisting you!