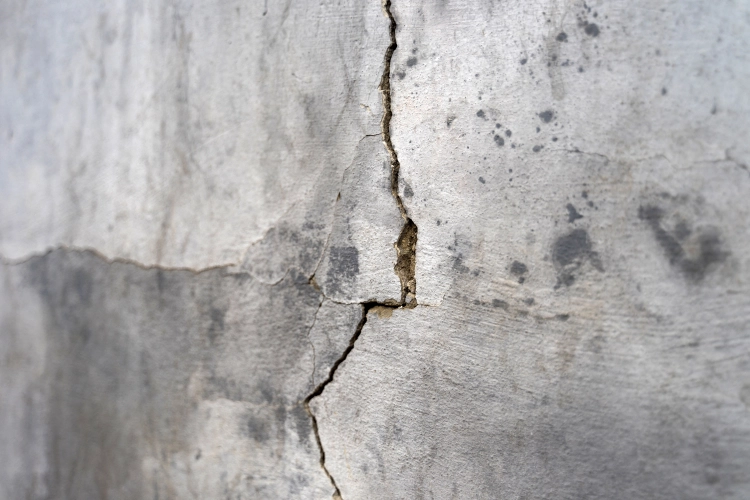 When you notice cracks in walls and floors, it's natural to be concerned and want to know whether it means your home needs foundation repair. In the Tulsa area, it's common for homes to have cracks due to the region's clay soil. But not all cracks mean you have a serious problem.
So, how do you know if the cracks you've noticed mean you need foundation repair? A home inspection is the best way to assess how serious your situation may be. To get you started, here is a closer look at what causes cracked foundations and how to spot signs your home may need structural repairs.
Common Causes of Cracked Foundations in Tulsa Homes
Natural Wear and Tear
Over time, concrete tends to shift and may suffer small cracks as a result. This is especially true in Tulsa homes, where the clay soil expands and contracts with our frequent temperature swings, and freeze and thaw cycles.
Storms and Drought
Another way that Tulsa weather affects home foundations is that we have frequent bouts of heavy rains, alternating with periods of drought. Too little moisture can cause the clay soil here to pull away from the foundation. Too much moisture causes the soil to expand. The result, either way, is pressure on your home walls and slab, which can lead to a cracked foundation.
Leaks and Flooding
Whether your plumbing has a slow, steady leak that goes undetected for a long time, or whether your home faces sudden flooding from storms or a burst pipe, leaks and flooding are harsh on a home. The pressure created by water and wet soil can lead to cracks and result in a need for foundation repair.
Extreme Heat
The 100-degree heat spells we can deal with during sweltering Tulsa summers can unfortunately do damage to concrete. The baking heat makes concrete surfaces expand, and then when the temperature drops in the evenings, the concrete contracts. This movement can lead to cracks.
Earthquakes
Though it's easy to think of Tulsa homes as exempt from major earthquake damage, Oklahoma does have its share of smaller earthquakes. And these events, though minor in many aspects, can cause the ground to shift just enough to lead to cracked foundations.
Tree Roots
Many Tulsa homes feature beautiful, majestic trees in their yards. The bigger and older the tree, however, the larger and more potentially damaging the roots can become. Tree roots can push against your foundation, causing it to break. Trees can also drain needed moisture from the soil, which causes home foundations to shift and crack.
Poorly Installed Foundation
When builders cut corners, are inexperienced, or don't pay attention to details, the result is often an improperly laid foundation. Poor workmanship will eventually become evident as the home begins to show signs of structural damage.
6 Warning Signs You May Need Foundation Repair
With so many ways that Tulsa's climate and landscape can affect houses, it's important for homeowners to know how to assess their home for possible structural issues. Keep an eye out for symptoms of a cracked foundation:
1. Cracks and Fractures in Walls and Floors
The most obvious sign of a possible foundation problem, cracks have many causes, so it's a good idea to have an inspection to find out what's happening. In general, foundation issues can cause structural fractures such as these:
Cracks in an exterior chimney
Horizontal fissures in your exterior walls
Large cracks lining up on both the interior and exterior of a wall
Cracks at least one-half inch wide
Stair-step crack in your brick exterior
2. Sinking or Uneven Floors
If your home has floor areas that are rising, sinking, or higher in one area of the room and lower in another, it's a sign the foundation is settling or shifting more than normal. Unfortunately, this issue only grows worse over time, and a house that moves even just two inches can cause major structural problems for you, from broken pipes to damaged walls and more.
3. Doors that Stick or Won't Open
When a cracked or damaged foundation starts impacting your home, your doors often suffer. You'll likely see signs such as these:
Exterior doors may drag or get stuck at the bottom when your foundation is weakened.
Interior doors tend to stick at the top.
French doors may not meet properly in the middle.
Doors may hang unevenly within their frame.
4. Gaps between Door/Window Frames and Exterior Walls
Another symptom of a cracked foundation is how doors and windows hang in their frames. Doors and windows are meant to be flush with their frames, looking even, with no gaps, and they should open and close with ease. Visible gaps between a door or window and its frame can signal foundation repair is needed.
5. Damp Crawl Space beneath Home
Since one cause of foundation damage is too much moisture, it's not a good sign if your crawl space or basement is damp or moldy. Left too long unattended, excess dampness and water damage will crack your foundation and put your home at risk of costly structural problems.
6. Cabinets Pulling Away from Wall
The more a home shifts on its foundation, the more it affects fixtures attached to walls. If kitchen cabinets and counters pull away from their position, sinks and toilets shift, or pipes aren't firmly in place, a cracked foundation may be behind it.
Get Peace of Mind about Your Home Foundation
Why worry about how secure your home foundation is when you can know for sure? Edens Structural Solutions has helped close to 200,000 Tulsa homeowners get answers and trusted foundation repairs that provide confidence in your home's structural soundness.
If you're concerned about your foundation, a free, no-obligation home foundation inspection can answer your questions, reveal any hidden issues, and give you peace of mind.