When most people consider foundation issues, they automatically think about things like poor construction, changes in soil conditions, natural disasters, and termite infestations. However, one of the most common culprits actually involves poor drainage. Specifically, many homes suffer foundation issues as a result of problems with their home's gutter system. If you're unaware of the relationship between your home's gutter system and foundation, then it's time to educate yourself on how the former can impact the latter.
How Gutter Systems Work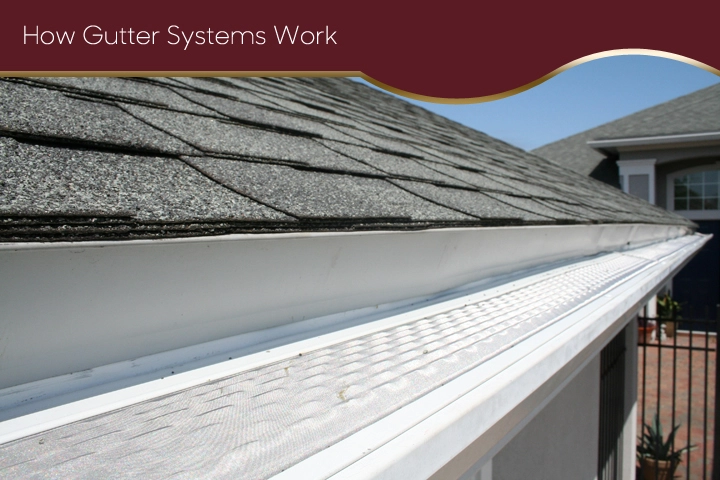 Before we get into the relationship between gutters and home foundation issues, it's important that you understand the basics of how your home's gutter system works.
"Gutters are basically long channels that sit along the lower edge of your roof. They're designed to capture all the water that hits your roof when it rains or melts after a snow, ensuring that it travels safely to the ground," explains Shawn Drew of Angie's List. "These channels are angled slightly to direct water to the downspouts, which allow the water to fall to the ground in a controlled manner. The end of the downspout is curved to ensure the water is deposited away from the home's foundation."
The last sentence in this explanation is perhaps the most important. Without the proper gutter system and downspout setup, water would simply fall right next to the home and pool up near the foundation.
While your home certainly has a gutter system, what you need to be thinking about is the quality of your system. Is it properly installed and maintained? The presence of gutters alone isn't enough to save your home from foundation problems.
Gutters and Your Home's Foundation
"Once water pools near the foundation, two major issues can arise along with a host of smaller problems," Drew points out. "First, pooling water means the soil underneath the water is completely saturated, and putting an enormous amount of pressure on the side of your home. Over time, this pressure can cause the basement and lower walls to push inward or crack."
The second possible problem is that when the water eventually does drain away, it could erode the soil. This may lead to foundation settlement and could cause uneven floors, chimney deterioration, or cracks in walls and ceilings.
It's not just your foundation, either. As water penetrates the soil around the home and seeps into your home's foundation, mold becomes a possibility. Mold that starts in the basement or foundation can eventually spread into drywall, carpet, flooring, and other materials found in your home. This can lead to health problems and expensive repairs.
But we have a foundation warranty, you may say. Well, don't use this is a fallback. "Foundation damage can also create the irreversible issue of a voided foundation warranty," Leaf Filter mentions: "Most foundation warranties contain language that directly mentions keeping the gutter system clean to properly divert water away from your home."
If foundation problems are found to have resulted from improper gutter maintenance, then you may end up having to pay out of pocket for all repairs.
How to Maintain Your Gutters
It's obviously in your best interest to maintain your home's gutter system to avoid foundation-related problems down the road. Here are some tips and pointers:
Choose the Right System
Not all gutter systems are the same, nor are they created equal in terms of quality and function. Picking the right gutter system for your home – if you're building or replacing – is critically important.
Common gutter materials include aluminum, galvanized steel, copper, and vinyl. Each material has various thicknesses and designs. You also have to think about options for keeping gutters protected from leaves and debris, downspout placement, water diversion, and more.
If you already have a working system on your home, there's not much you can do, other than learning how to clean and maintain it. However, if you're in a place where you need new gutters, it's worth taking the time to weigh your options.
Clean Them Religiously
Even more important than choosing a gutter system is cleaning the system you have religiously. Inspect the gutters at least twice a year – ideally, more frequently – and remove any clogs you see.
Everyone has their own method for cleaning out gutters, but the most effective strategy is to put on some gloves, grab a ladder, and remove them by hand. You can then run a garden hose into the gutter system to flush out anything that's stuck in the downspouts.
Pay Attention to Downspouts
Finally, keep an eye on your downspouts. When water leaves the downspouts, where is it going? You can install underground drainpipes that deposit the water away from the home, or you may use "splash blocks" to divert away from the foundation. Another option is to collect rainwater in a water recycling system that can be used to water plants on your property.
Whatever you decide to do, it's crucial that you prevent water from pooling up around your home's foundation and penetrating the soil. Over time, this pooling can lead to massive problems.
Contact Edens Structural Solutions
Foundation repair is not something you can afford to take lightly. And while we understand that no homeowner is ever excited about the prospect of foundation repair, we do everything in our power to ease the burden of this process by providing high-quality work and honest service at a competitive price.
At Edens Structural Solutions, we've been in business for more than 30 years and are widely recognized as the premier foundation repair company in Oklahoma. Our family owned and operated business is built on intelligence and integrity, which is why we always recommend customers hire a third-party structural engineer to evaluate their home prior to hiring us.
If you're looking for a company that takes shortcuts and offers the lowest-priced work in the industry, then you're better off going with another contractor. But if you're looking to have your foundation repaired the right way, contact Edens Structural Solutions today.