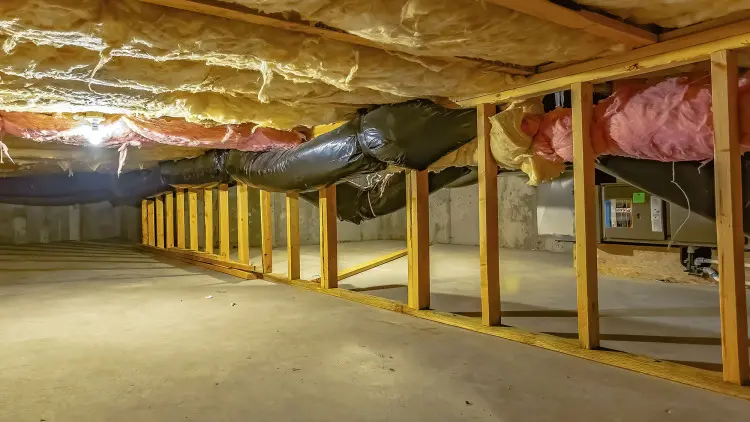 Out of sight, out of mind—That seems to be a common way of thinking, especially when it comes to areas of your home that you don't often enter, like your crawl space. Unfortunately, when you don't keep your crawl space in good shape, it eventually causes you problems that make your home uncomfortable, inefficient, and susceptible to moisture damage.
Get to know the issues that can arise from a wet crawl space, and how to address the underlying causes of all that moisture, so you and your home can be protected.
The Problems that Come from a Damp Crawl Space 
While it might seem that a wet crawl space shouldn't be that big a concern, that excess moisture can result in a lot of negative effects you'll have to deal with. Among them:
Uncomfortable, Humid Living Space 
Moisture in your crawl space eventually must go somewhere—and where it ends up is in the air of your interior living areas. Ventilation brings that moisture into your house and makes your indoor air stuffy, damp, and unpleasantly sticky.
Higher Energy Bills
As your home's air gets humid, your air-conditioning and heating system must work harder to keep living spaces comfortable. It takes more effort and energy to cool humid air, which means your HVAC will run longer. The result is higher utilities costs.
Rot and Rust 
Crawl spaces tend to contain essential structures such as supportive wood beams and metal pipes. Excess dampness eats away at these structures, causing wood rot and metallic rust—both of which weaken those structures and put your home at risk of more significant damage.
Pests 
A dark space with plenty of moisture provides an appealing home for termites, carpenter ants, spiders, mice, rats, snakes, dust mites, and other pests. And when these unwanted creatures make their nests in your crawl space, you're inviting them to damage structural areas, foster unhealthy living conditions, and invade your rooms.
Mold and Mildew 
The growth of mildew and mold can happen anywhere that moisture provides a foothold. As these nasty organisms reproduce underneath your home, they seep into your ventilation and get inside the house. This can make your indoor air unhealthy, promoting asthma and other respiratory conditions that make it hard for family members to breathe.
Foundation Issues 
Most importantly, wet crawl spaces can lead to structural damage over time. Unchecked moisture eats away at supportive floor joists, resulting in uneven floors. Dampness can promote the perfect conditions for cracks in concrete to grow wider, causing your foundation to shift. The longer this situation is allowed to continue, the more chance there is that your foundation will need costly repairs.
What Causes a Wet Crawl Space?
If your crawl space is experiencing moisture problems, there are several things to check for and address:
1. Plumbing Leaks
Much of your home's pipe system is located underneath your first floor, within the crawl space. Breaks, cracks, worn-down parts, and other damage to your plumbing should be addressed quickly.
Also, keep in mind that issues such as sewer line breaks, septic system problems, hot water heater break-downs, and other challenges can also lead to leaks in your crawl space.
2. Heavy Rains
During rainy weather, water can pool around your foundation and begin to seep into your crawl space. This is especially likely if your foundation is weakened already, or if your crawl space isn't waterproofed.
3. Condensation
Humidity within your home (often due to poor insulation) can cause condensation to form on cold areas, such as air-conditioning ducts or pipes. If the moisture has nowhere to go, it ends up pooling on the crawl space floor, promoting issues like mold, mildew, pest infestations, and wood rot.
4. Faulty Drainage
If your yard is improperly graded, gutters are malfunctioning, or drainage doesn't lead in the right direction, you can end up with pooled water around your foundation. The moisture can seep into your crawl space.
5. Foundation Cracks
As houses age, they settle—a process that is common, but can also lead to cracks in the foundation, especially if the foundation was not properly laid when the home was first built. Large tree roots, earthquakes, and other natural phenomena can also cause cracks. Moisture can seep into these spaces and harm your foundation even further.
6. Lack of Waterproofing
Given all the issues that can cause a crawl space to be too moist, homeowners often turn to solutions such as waterproof barrier installation. If your home lacks this protection, it's much easier for water to get in and do damage.
How Foundation Experts Solve Wet Crawl Space Problems 
Why is it important to have a foundation repair contractor evaluate and repair your wet crawl space?
The answer is simple—structural professionals know exactly what to look for and how to properly address it.
Pro teams will thoroughly and expertly assess your house to identify the causes of any issues you're having. They'll also help you navigate the best solution for your situation—whether that's foundation repairs, fixing your yard's grading, installing French drains, or adding a waterproof barrier to the crawl space.
This is much easier to tackle with foundational experts on your side who can give you peace of mind that any repairs and solutions are done right the first time. That way, you can simply relax and enjoy your home, knowing it's safe, sound, and protected against costly damage.
Get Crawl Space Care that Protects Your Home   
Whether you're wondering about the condition of your crawl space, or need repairs to ensure it is functioning at its best, our expert team at Eden's Structural can help. We'll assess your foundation, and help you choose the smartest course of action to safeguard your investment in your home.
Learn more about our crawl space repair solutions here, and gain peace of mind in your Oklahoma home's structural soundness.