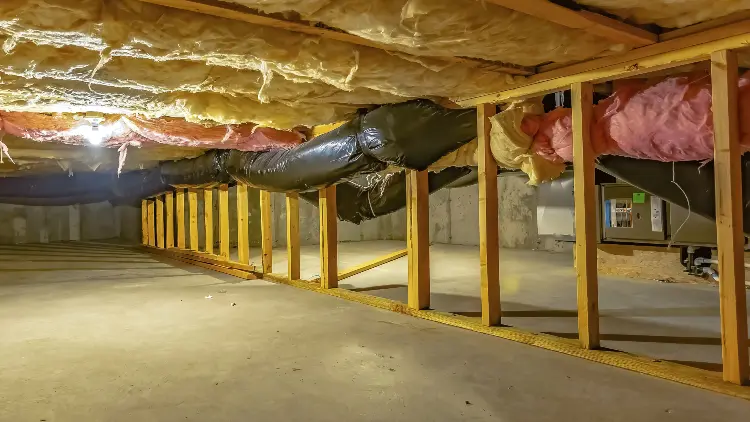 Too much moisture in your home can lead to plenty of headaches—from mold and mildew to wood rot. These issues can become costly to tackle, so taking preventative measures to beat back moisture damage is a must. And that means thinking about a place that is often overlooked as a source of too much moisture—your home's crawl space.
Why It Matters to Have a Crawl Space Moisture Barrier
Since crawl spaces have direct contact with the ground, it makes sense that moisture from freeze and thaw cycles, puddles of rainwater and more can easily accumulate underneath a home. Too much dampness below your foundation can:
Breed unhealthy mold and mildew, affecting your home's air quality
Make it harder for harmful gases like radon to escape the home
Cause pipes to rust, weakening them and making leaks a greater risk
Lead wood beams to rot, causing sinking floors
In other words, moisture in your crawl space can lead to serious problems. But a vapor barrier offers an effective solution for your Oklahoma home.
How a Vapor Barrier Works
A vapor barrier is a plastic or foil material installed in the crawl space to keep moisture from forming. A crawl space moisture barrier limits the amount of air that flows underneath your house from outside, so that the temperature in the crawl space stays similar to the temperature on your home's first floor. As a result, condensation and dampness are vastly reduced.
Benefits of Installing a Moisture Barrier in Your Crawl Space
Creates a Healthier Home
One of the most serious problems caused by moisture in Oklahoma houses is mold, mildew, and other fungi. These growths can cause nasal stuffiness, throat irritation, coughing or wheezing, eye irritation, and skin irritation. Depending on the severity of your allergy, more serious reactions can occur.
Eliminating mold isn't easy after it has already developed, so fully addressing mold-related problems before they occur is imperative. With a vapor barrier in your crawl space, mold, mildew and fungi are much less likely to develop.
Improves Energy Efficiency
A vapor barrier provides extra insulation that is good for your home. When you reduce moisture in your home's crawl space, you make it easier to keep your home at a steady, comfortable temperature without overusing the heat or air-conditioning. Your home will become warmer in the winter and cooler in the summer. You'll cut down on energy bills each month and be more comfortable in your home.
Provides Better Access to the Crawl Space
A side-benefit of adding a moisture barrier is that it can make it simpler to access the area underneath your ground floor. A vapor barrier helps keep your crawl space clean, making it easier to utilize and more comfortable to enter when needed to check pipes and electrical systems.
Resists Harmful Radon
Another important benefit of installing a crawl space vapor barrier is that it prevents radon from getting into your home. Radon is a radioactive gas that forms from the natural breakdown of uranium in soil, rocks, and water, and it can be found in homes all over the United States. In many areas of Oklahoma, it exists in higher than acceptable levels.
Radon generally comes up through the soil and enters a house through cracks in the foundation. A vapor barrier blocks those cracks, significantly reducing radon levels in the home.
Eliminates Wiring Hazards
Though the electrical wiring in your home's crawl space may be properly insulated and protected by plastic sheathing, there are often junction boxes, joints, or other connections where wiring is partly exposed. Combine those exposed wires with moisture, and you could end up facing electrocution or fire. Vapor barriers help alleviate these concerns by ensuring there's an extra layer of protection from the hazardous combination of water and electricity.
Gets Rid of Pests
Carpenter ants, mice, rats, snakes, termites, skunks, racoons and armadillos love spending time underneath a home that has moisture and standing water available. By using a vapor barrier, you'll avoid attracting pests that can spread disease and cause significant damage to your home's structure. Getting rid of pests under your home not only makes your house more enjoyable to live in but also makes it easier to sell your house later on.
Increases Resale Value
Potential buyers normally expect the seller to fix any problems with moisture under the home, or else they will demand a lower price. When a home inspector explores the crawl space and notices the presence of water, it's impossible to ignore. Resolving any issues with moisture in your crawl space before listing your home for sale will literally be worth it.
Prevents Structural Damage
Excess moisture underneath your home can also penetrate key home structures, from your flooring to drywall and more. Rot and deterioration can occur slowly over time, without your awareness of it, creating costly damage. A vapor barrier keeps moisture from entering the crawl space and wearing away at your foundation, helping to keep your home structurally sound.
Reduces Rust and Corrosion
Vapor barriers do a great job of preventing rust and corrosion that may develop on ductwork or heating and cooling components that run through your home's crawl space. Water does irreversible damage to anything involving metal, and a vapor barrier can reduce this damage. A moisture barrier keeps these essential home systems functioning smoothly, giving you peace of mind.
Make Sure Your Home Foundation Is Secure and Protected
If you're seeing signs of structural issues—such as a damp crawl space, cracks in walls, uneven floors or other concerns—it's time to have an inspection that'll ease your mind and give you solutions. For over 34 years, Edens Structural Solutions has helped thousands of homeowners fix their foundation problems for good. Learn more about how our crawl space inspections give homeowners confidence in their foundation.