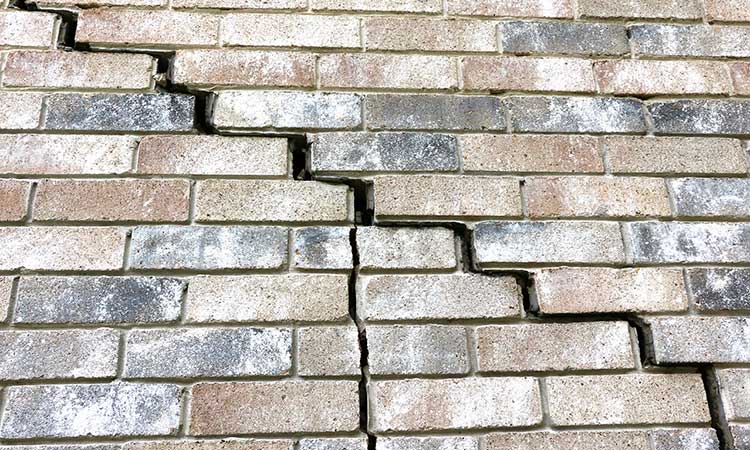 Lots of people hate the rain because it means getting wet, outdoor activities being canceled, and being stuck inside when you'd rather be enjoying the sunshine. But worse than that, some people rightly hate the rain because it's causing serious foundation damage in their homes. While a little rain usually isn't a problem, homes with improper drainage are in fact susceptible to severe foundation problems, and something as seemingly minor as heavy rain can be enough to cause damage.
Minor Damage in the Form of Cracks
A minor form of foundation damage that rain can cause is a small crack. This is minor damage because it's not structurally significant. In fact, minor cracks that are less than one-eighth-inch wide are quite common in poured concrete foundations, so they don't necessarily indicate a problem. However, minor cracks can indicate that there could be a problem in the future because they suggest that heavy rains are exerting pressure on the foundation (more on that later). Moreover, those cracks can lead to water leakage, because groundwater will find its way into your house by any means possible, including through minor foundation cracks.
Settling and Sinking Foundations
One of the major problems that you do have to worry about with foundation damage, however, is when your foundation suffers a drastic settling or sinking on account of heavy rain. When this occurs, it can cause problems throughout the house. Here's how it happens: heavy rains cause the soil around and under the foundation to swell, but when a period of drought follows, the soil shrinks and leaves a chasm that the foundation sinks into. Here are some of the warning signs that indicate a foundation that has suffered an extreme drop or settling:
Leaning chimney
Cracks in and around doors and windows
Stair-step cracks in the bricks
Cracks in drywall or concrete floor
Doors and windows that jam and stick
Major Cracks, Heaves, and Displaced Foundations
Other types of major foundation damage that can occur because of heavy rain are structurally significant cracks, heaves, and a foundation wall that's physically moved. This happens when the soil around and under the foundation swells to the point where it presses against the foundation with so much pressure that it causes a major crack, a heave, or a displacement. Homes that are most susceptible to this type of damage are ones that are surrounded by soil types that absorb lots of moisture and don't drain well, such as clay.
Luckily, there are foundation repair methods available if your home has suffered any sort of foundation damage, and Edens Structural Solutions has plenty of experience with this. On top of performing a variety of foundation repairs, we can also repair broken drainage systems so that heavy rains don't cause this type of damage again in the future. If you suspect a minor or major problem with your foundation, give the experts at Edens Structural Solutions a call, or schedule a free foundation repair consultation today.