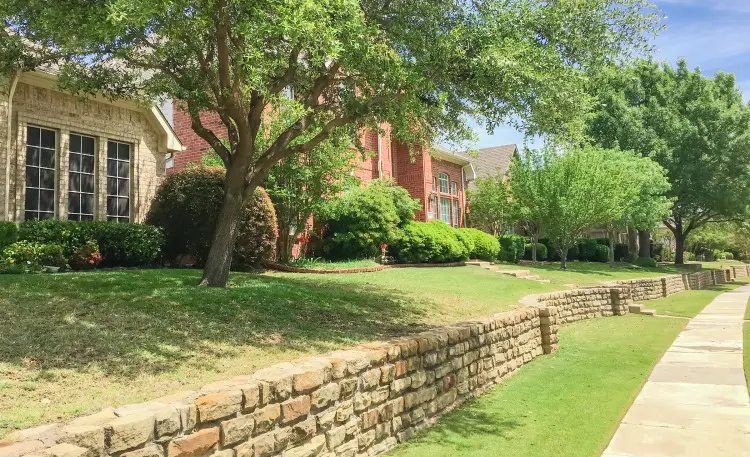 Now that we've entered the rainy season in Oklahoma, you may be noticing an annoying problem in your yard that can potentially affect your home's foundation—poor drainage. How serious is this issue?
For starters—pooling water and improper drainage can contribute to structural issues that put your foundation at risk. And as homeowners in the Tulsa area know well, a damaged foundation can result in unsightly wall cracks, doors that don't close, windows that won't lock, and a host of other problems that are costly to repair and lower your house's overall value.
The good news is, you can address the issue and keep your home's foundation safe. The process begins with ensuring your yard is properly graded to promote drainage.
Here's what that means and how it benefits your entire property.
What Is Yard Grading?
This may seem like a confusing term—until you simply take a look at your lawn and the lawns of homes around you. As you do, you'll notice that some yards appear level, while others are sloped so that one part of the yard is higher or lower than other parts.
This rise and fall of the ground around your home is referred to as "grading," and your property will fall into one of two types of sloping that can impact your foundation—one good, and one problematic.
Positive Grading
A house that is located at the high point of the property has a positive grade. This simply means that the landscape around your home slopes downward from the foundation.
A positive grade is a good thing, even if the slope is very minimal, because that small downward slope causes water to drain away from the foundation. You'll be less likely to have structural issues due to excessive moisture and leaking when the grade of your yard is positive.
Negative Grading
If your house is situated at a low point in your yard, meaning the ground around the foundation slopes upward, it's referred to as a negative grade.
This upward slope is a problem, because any water due to rain runoff or snow melt will run downward and gather around your foundation. The result of this includes poor drainage, ponding water, basement leaks and a weakened slab.
Signs Your Yard Is Suffering from Faulty Grading
Since your yard may be only very slightly sloped upward or downward, or uneven in spots, it can sometimes be difficult to tell if your ground's grade is a problem just by looking for the slope.
But there are other signs that are much easier to detect—and these can signal that it's time to contact a professional to check your yard's grade and offer solutions to preserve your property's value and performance.
Spongy Soil
Everyone's lawns will be wet immediately after a rainstorm, but if a couple of days pass with dry weather and you're still noticing soggy areas of ground around your home, it can indicate the runoff isn't draining as it should.
This drenched, spongy soil is especially concerning if it is close to your home's exterior because it means your foundation is likely taking the brunt of that excessive moisture.
Poor Drainage
In addition to soggy soil, faulty drainage can show up as pools of water appearing around your home even if the rain wasn't that heavy, or as puddles that just don't seem to dry up.
The result is the same—you're risking that this excess moisture will end up seeping into your basement or crawl space, where it can harm your foundation.
Too Many Bugs
Another sign of too much water that isn't draining properly from your yard is lots of bugs. Mosquitoes are especially noticeable, because they're annoying and they breed in standing water.
But other bugs are also attracted to pooling water. So too many pests can mean your yard isn't properly graded.
Dead Grass and Plants
This may be surprising to some, but dying grass and failing plants may not be the result of too little moisture—but rather too much. Overwatering and improper drainage eat away at the soil that supports your landscaping's root systems.
Wilting flowers, browning leaves, and rotting roots can all be signs of poor drainage in your landscaping.  If you have slopes, ensure runoff water is directed to a drainage system such as a pipe or a ditch. Ensure slopes are stable or runoff water could cause erosion or landslides. Design your landscape so that water flows away from your home and ends up in the street drain. The longer that poor drainage exists in landscaping around the exterior of your home, the more likely erosion will occur, often exposing your foundation and contributing to damage.
Foundation Issues
If left too long unaddressed, poor drainage from negative yard grading can start to wear away at your home's slab. All the signs of foundation damage can begin to show up—such as cracks on interior and exterior walls, a leaning chimney, stair-step breaks in your bricks, soil pulling away from your home, and more.
Ways to Address Improper Yard Grading
Have a Professional Assessment
Drainage issues can have several causes—from uneven or poorly sloped yards to overwatering your landscaping and faulty gutters and downspouts. And your yard's grade can be quite subtle and hard to assess on your own.
Hire a professional team experienced in yard grading, drainage, and foundation solutions to ensure the cause of your drainage issues is determined and the appropriate fix is applied.
Build Up the Soil Around Your Foundation
If your yard's negative slope is minimal, adding additional soil around the house's exterior walls can help.
Use Waterproofing Methods
Protecting your crawl space with waterproofing solutions is another effective way to keep damaging moisture from getting to your foundation.
Install a French Drain
Sometimes known as catch basins, these pipe systems are installed within your landscaping so they can be easily hidden as they direct water away safely.
Check out these additional tips to help protect your foundation from the risks posed to it from Oklahoma's rainy weather.
Learn more about your foundation repair options in our "Foundation Repair Guide"
Prevent Foundation Problems, and Protect Your Tulsa Area Home
Oklahoma's rainy spring weather and clay soil can be tough on your home, but you can take steps to protect your foundation now.
Our honest, detailed team of experts at Edens Structural has been providing Tulsa area homeowners with trusted, long-lasting foundation care that keeps homes and yards in tip-top shape. Discover how our drainage solutions make it easy to preserve your property for years to come.