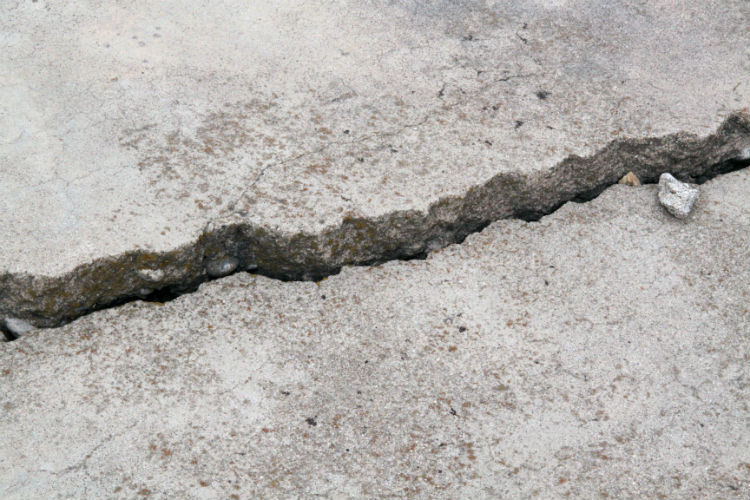 It's something that may happen so slowly you don't notice it, or so quickly it catches you off guard with your next step. You may be in your own yard, walking along on your patio or other concrete walkway and feel one a part of it "give" under your feet. Or maybe you just look out one day, after spring has arrived, and noticed that parts of the ground covered with concrete are no longer level, creating breaks.
How did this happen? What can you do about it?
Not A Sign Of Quality
When you see concrete walkways—or even slabs—start to sink into the ground and stop being level, this should not automatically be taken as a sign of poor workmanship. In some cases, especially if it happens shortly after the work is done, this may be the cause.
In many other instances however, this is simply a matter of time and erosion at work on the soil underneath your concrete. The concrete is quite solid, and better at withstanding weathering and the elements, as it was designed to be. But the soil it was originally laid out on can be prone to many different types of change, especially over a long enough period of time. The process of soil freezing and melting through winter and spring over the years can cause it to move or drift. Rainfall and other water sources can also move soil away. Even trees growing too large and sending roots out can have an effect; there are many different possible causes.
It Can Be Fixed
Fortunately, there are solutions to this problem that don't necessarily involve having to repave the walkway, or buy new concrete blocks and have them laid out again. Polyurethane foam injection is a process of "concrete lifting" that sets your concrete back in place without any need to dig or replace the stones.
Polyurethane foam injection involves drilling small holes, usually no larger than a penny, into the portion of concrete that is sunk and in need of concrete lifting. Once that is done, the polyurethane foam is pumped through a tube. Polyurethane is a very light, but very dense polymer, which means that it is strong, durable, but very easy to use. When polyurethane is injected as foam into an empty space, it quickly fills it up, raising the concrete back to the desired level. Then, just as quickly, it begins to dry, solidify and harden.
In as little as 15 minutes, polyurethane foam injection may be ready to support weight and return use of your concrete walkways, stones or slabs to you. Once the job is done, the holes drilled will be refilled and patched up, and you're done! This is a much faster, easier method of regaining level concrete than "mud-jacking" which uses a similar technique, but uses concrete instead, which takes much longer to properly dry and cure before you regain use of the area.
Polyurethane itself is also a lighter material, and is resistant to water, as well as freeze/thaw seasonal cycles. Best of all, it is environmentally friendly, with chemicals that would affect the soil or release toxins.
We Can Level It For You
Edens Structural Solutions specializes in foundation issues, and we've been doing good work for Tulsa and other communities in northeast Oklahoma for over 30 years. If you've got a problem with concrete that's no longer level on your property, and you want to do something about it, contact us for a free consultation. We're always ready to help.